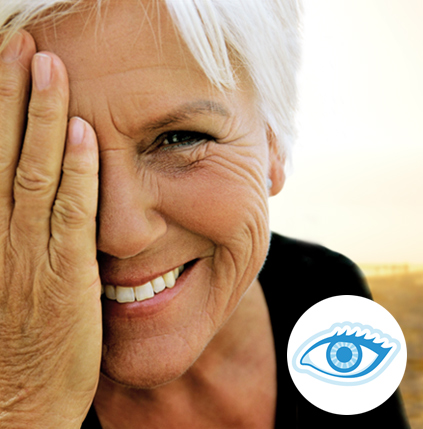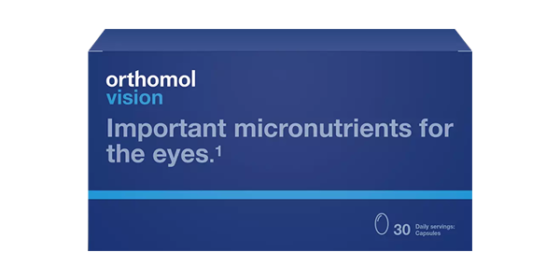 Orthomol Vision –
Better vision, more experience!
Important nutrients for your eyes
Orthomol Vision contains important micronutrients for the eyes. With vitamin A, vitamin B2 (riboflavin), zinc and the omega-3 fatty acid DHA for the maintenance of normal vision.
A food supplement for your vision
Important micronutrients for the eyes:
Capsules for 30 days or 90 days
Take the contents of a packet, (= daily portion), preferably individually with plenty of liquid with or after a meal. The capsules can also be taken throughout the day.

1 daily serving of 3 capsules (2.2 g)
Composition                                  
Per Daily Serving
 % NRV**
Vitamins
Vitamin A
600 μg RE °
  75
Vitamin D
15 μg (600 I.U. °°)
300
Vitamin E
73 mg Alpha-TE °°°
608
    including gamma-tocopherol
10 mg
***
Vitamin C
 200 mg
250
Vitamin B1 (thiamine)
 2 mg
182
Vitamin B2 (riboflavin)
 2.5 mg
179
Niacin
20 mg NE *
125
Vitamin B6
 2.5 mg
179
Folic Acid
400 μg
200
Vitamin B12
9 μg
360
Biotin
150 μg
300
Pantothenic acid
15 mg
250
Trace elements
Zinc
15 mg
150
Selenium
60 μg
109
Chromium
60 μg
150
Phytonutrients
Lutein
10 mg
***
Zeaxanthin
2 mg
***
Lycopene
1 mg
***
Bioflavonoids
(From: citrus fruits, grapes and elderberries)
50 mg
***
Essential fatty acids
Omega-3 fatty acids, including
360 mg
***
    Eicosapentaenoic acid (EPA)
30 mg
***
    Docosahexaenoic acid (DHA)
300 mg
***
° RE = retinol equivalents
°° I.U. = International units
°°° alpha-TE = alpha-tocopherol equivalents
* NE = niacin equivalents
** NRV = reference quantity according to EU regulation 1169/2011
*** No EU recommendation