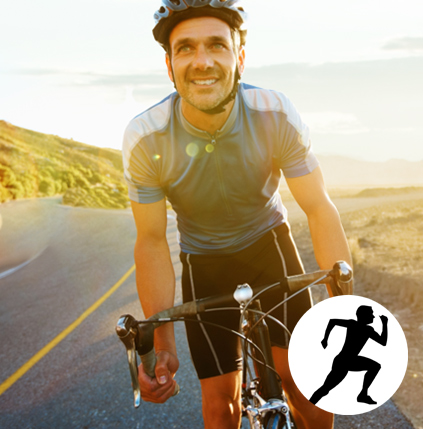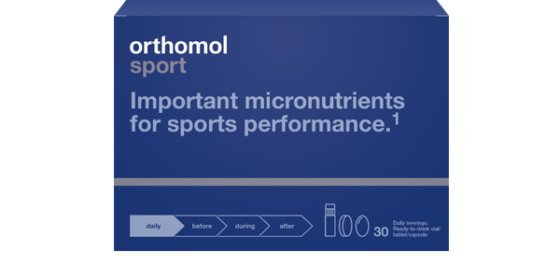 Orthomol Sport –
For those who give their all
Important micronutrients for good performance in sports
Orthomol Sport is a food supplement containing magnesium which contributes to a normal energy-yielding metabolism and to normal muscle function. With L-carnitine, coenzyme Q10 and omega-3 fatty acids.
Important micronutrients for good performance in sports
Magnesium and

calcium 

contribute to normal muscle function.
B-vitamins, vitamin C as well as calcium, magnesium, iron, copper and iodine contribute to a normal energy-yielding metabolism.
Vitamin C contributes to normal functioning of the immune system during and after intense physical exercise.
Iron contributes to the normal formation of red blood cells and haemoglobin as well as to normal oxygen transport in the body.
Other nutrients
Orthomol Sport contains L-carnitine and coenzyme Q10, both of which are involved in the energy-yielding metabolism. Particularly large quantities are found in animal foods, such as meat and milk. Orthomol Sport also contains omega-3 fatty acids, which are mainly found in fish oil. They include above all docosahexaenoic acid (DHA) and eicosapentaenoic acid (EPA). These are polyunsaturated fatty acids which are components of cell membranes, among other benefits.
Ready-to-drink vial + tablet + capsule for 7 days or 30 days
Take the contents of one ready-to-drink vial (= daily serving) together with the tablet and the capsule with or after a meal every day. Shake well before use. Generally we recommend taking the product some time before or after your sports activity.
1 daily serving of 20 ml (23.9 g) plus 1 tablet and 1 capsule (1.6 g)
Composition                                  
Per Daily Serving
 % NRV**
Vitamins
Vitamin A
750 μg RE°
94
Vitamin D
15 μg (600 IU°°)
300
Vitamin E
36 mg alpha-TE°°°
300
Vitamin K
 60 μg
80
Vitamin C
300 mg
375
Vitamin B1 (Thiamin)
3 mg
273
Vitamin B2 (Riboflavin)
 3.6 mg
257
Niacin
35 mg NE*
219
Vitamin B6
5 mg
357
Vitamin B12
9 μg
 360
Folic acid
500 μg
250
Biotin
150 μg
300
Pantothenic acid
18 mg
300
Minerals and trace elements
Calcium
200 mg
25
Magnesium
150 mg
40
Iron
5 mg
36
Zinc
5 mg
50
Copper
1000 μg
100
Selenium
30 μg
55
Chromium
30 μg
75
Molybdenum
50 μg
100
Iodine
100 μg
67
Phytonutrients
Citrus bioflavonoids
5 mg
***
Beta-carotene
2 mg
***
Lutein
800 μg
***
Lycopene
 200 μg
***
Essential fatty acids
Omega-3 fatty acids, including
150 mg
***
    Docosahexaenoic acid (DHA)
50 mg
***
    Eicosapentaenoic acid (EPA)
 80 mg
***
 Other micronutrients
L-carnitine
300 mg
Coenzyme Q10
15 mg
° RE = Retinol Equivalents
°° IU = International Units
°°° alpha-TE = Alpha-Tocopherol Equivalents
* NE = Niacin Equivalents
** NRV = Nutrient Reference Value according to EU-Regulation 1169/2011
*** No EU recommendation available yet