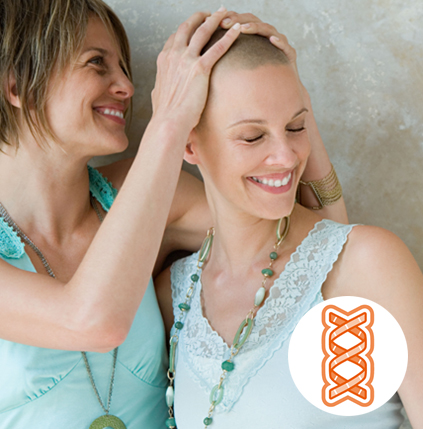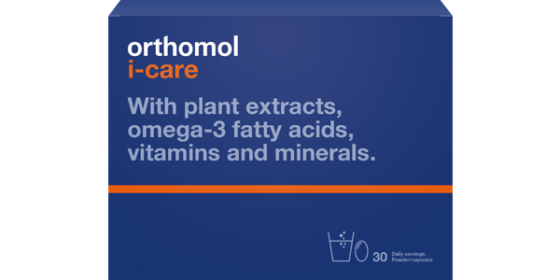 Orthomol i-Care –
A strong combination
Micronutrient support for adults
Orthomol i-CAre contains phytonutrients, omega-3 fatty acids, vitamins and trace elements.

Phytonutrients, omega-3 fatty acids, vitamins and trace elements
The group with the name phytonutrients summarises numerous different compounds synthesised by plants. They include for example carotenoids and

citrus bioflavonoids

 which occur as natural substances in our foods.
Fish oil is rich in omega-3 fatty acids, which include in particular

docosahexaenoic acid (DHA) and eicosapentaenoic acid (EPA)

. These are polyunsaturated fatty acids which are components of cell membranes, among other benefits.
Vitamin A, vitamin B2, biotin and niacin contribute to the maintenance of normal mucous membranes (incl. mucous membrane of the mouth).
Vitamin B12, vitamin B6, vitamin B2, vitamin C, pantothenic acid, folic acid, niacin and magnesium contribute to the reduction of tiredness and fatigue.
Powder and Capsules for 30 days
Dissolve the contents of one packet (= daily serving) in 150 – 200 ml of non-carbonatedwater or fruit juice and take it together with the capsules with or after ameal every day. The two capsules contain omega-3 fatty acids as well as extractsfrom green tea, curcuma, ginger, broccoli and pomegranate.
1 daily serving of 14 g powder plus 2 capsules (1.8 g)
Composition                                  
per daily serving
 % NRV**
Vitamins
Vitamin A
750 μg RE°
94
Vitamin D
 15 μg (600 IU°°)
300
Vitamin E
20 mg alpha-TE°°°
167
Vitamin K
  60 μg
80
Vitamin C
310 mg
388
Vitamin B1 (Thiamin)
 2.8 mg
255
Vitamin B2 (Riboflavin)
 3.5 mg
250
Niacin
  18 mgNE*
113
Vitamin B6
 4.2 mg
300
Folic acid
300 μg
150
Vitamin B12
    6 μg
240
Biotin
  50 μg
100
Pantothenic acid
   6 mg
100
Minerals and trace elements
Magnesium
100 mg
27
Zinc
  10 mg
100
Copper
 500 μg
50
Manganese
    2 mg
100
Selenium
 100 μg
182
Chromium
   30 μg
75
Molybdenum
   60 μg
120
Phytonutrients
Grapes extract, including
 37 mg
***
    Oligomeric proanthocyanidins (OPC)
 10 mg
***
    Resveratrol
    1 mg
***
Green tea extract
100 mg
***
Pomegranate extract
  50 mg
***
Broccoli extract
100 mg
***
Ginger extract
300 mg
***
Curcuma extract
100 mg
***
Citrus bioflavonoids
    5 mg
***
Lycopene
    2 mg
***
Lutein
    1 mg
***
Essential fatty acids
Omega-3 fatty acids, including
388 mg
***
    Docosahexaenoic acid (DHA)
130 mg
***
    Eicosapentaenoic acid (EPA)
194 mg
***
° RE = Retinol Equivalents
°° IU = International Units
°°° alpha-TE = Alpha-Tocopherol Equivalents
* NE = Niacin Equivalents
** NRV = Nutrient Reference Value according to EU
*** No EU recommendation available yet