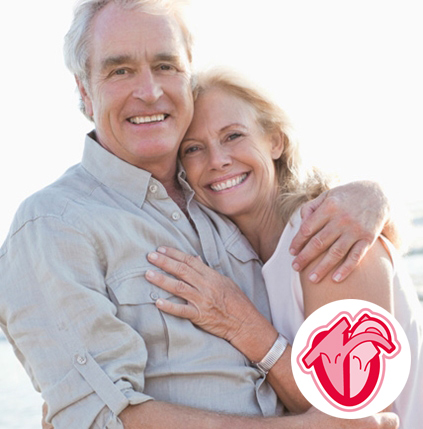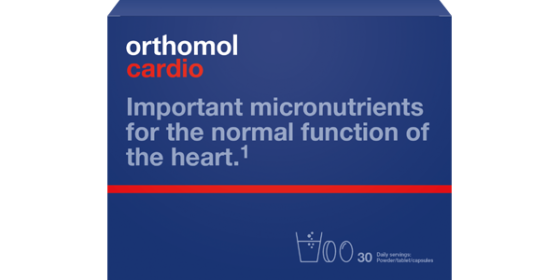 Orthomol Cardio –
Everything your heart desires!
Beneficial factors for the cardiovascular system
Orthomol Cardio supplies important micronutrients for normal cardiac function. With the omega-3 fatty acids EPA and DHA as well as vitamin B1 (thiamine) which all contribute to normal functioning of the heart.
With resveratrol and cocoa polyphenols.
Important micronutrients for normal cardiac function
Powder + tablets + capsules for 30 days
Dissolve the contents of one sachet (= daily serving) in approx. 150 – 200 ml of non carbonated water or fruit juice and take it together with the tablet and the capsules with or after a meal every day
1 daily serving of 15 g powder plus 1 tablet and 3 capsules (3.4 g)
Composition
Per daily serving
% NRV **

Vitamins

Vitamin A
750 µg RE°
94
Vitamin D
15 µg
(600 I.U.°°)
300
Vitamin E
(contains Tocotrienol, Alpha- and Gamma-Tocopherol)
150 mg
alpha-TE°°°
1.250
Vitamin C
530 mg
663
Vitamin B1 (Thiamine)
4 mg
364
Vitamin B2 (Riboflavin)
5 mg
357
Niacin
50 mg NE*
313
Vitamin B6
5 mg
357
Folic acid
400 µg
200
Vitamin B12
9 µg
360
Biotin
150 µg
300
Pantothenic acid
18 mg
300

Minerals and trace elements
Magnesium
180 mg
48
Zinc
10 mg
100
Copper
1.000 µg
100
Manganese
2 mg
100
Selenium
50 µg
91
Chromium
60 µg
150
Molybdenum
60 µg
120
Iodine
150 µg
100
 

Phytonutrients

Polyphenol, including
88 mg
***
    Oligomeric proanthocyanidins (OPC)
10 mg
***
    Cocoa polyphenols
50 mg
***
Bioflavonoids from citrus fruits
5 mg
***
Beta carotene
4 mg
***
Lutein
750 µg
***
Lycopene
250 µg
***
 

Essential fatty acids and other micronutrients

Omega-3 fatty acids, including
500 mg
***
    Docosahexaenoic acid (DHA)
166 mg
***
    Eicosapentaenoic acid (EPA)
250 mg
***
Coenzymes Q10 (Ubiquinone)
15 mg
***
L-carnitine
200 mg
***
° RE = = Retinol Equivalents
°° I.U.= International Units
°°° alpha-TE = Alpha-Tocopherol Equivalents
* NE = Niacin Equivalents
** NRV = Nutrient Reference Value according to EU Regulation No. 1169/2011
*** No EU recommendation available