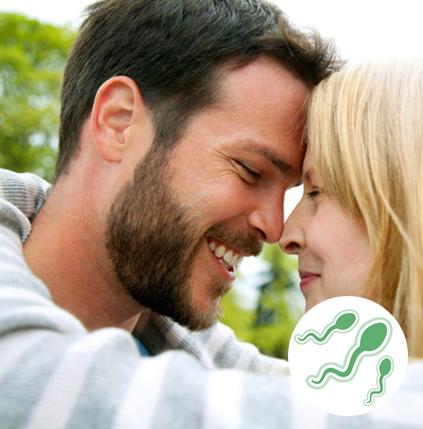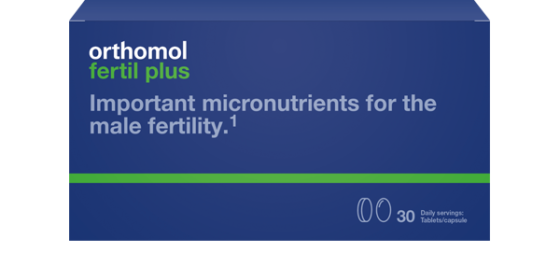 Orthomol Fertil plus –
Hope for men who wish to have a child
Important nutrients for sperm quality
Orthomol Fertil plus contains important micronutrients for male fertility.
Vitamins, minerals/trace elements: For better sperm quality
Important micronutrients for male fertility.
Zinc contributes to normal fertility and reproduction.
Selenium contributes to normal spermatogenesis.
Zinc contributes to the maintenance of normal testosterone levels in the blood.
Vitamin B6, vitamin B12 and folic acid (folate) contribute to a normal homocysteine metabolism.
Vitamin B12 and zinc have a role in the process of cell division.
Other nutrients
Fish oil is rich in omega-3 fatty acids, including in particular docosahexaenoic acid (DHA) and eicosapentaenoic acid (EPA). These are polyunsaturated fatty acids that are constituents of cell membranes, among other benefits.
Tablets and Capsule for 30 or 90 days
Take the contents of one packet (= daily serving), preferably singly with plenty of liquid, with or after a meal every day. It is always possible to spread the single tablets and the capsule on the daily meals.
1 daily serving of 3 tablets and 1 capsule (3 g)
Energy

per daily serving

32 kJ (7.6 kcal)

per 100gr

1,056 kJ (251 kcal)

Fat, including
0.4 g
12 g
    Saturated fatty acids
0 g
0 g
Carbohydrates, including
0.5 g
15 g
    Sugar
0 g
0 g
Protein
0.2 g
8 g
Salt
< 0.01 g
< 0.01 g
Vitamins
Vitamin D
15 μg (600 IU*)
500 μg (20,000 IU*)
Vitamin E
120 mg alpha-TE**
4,000 mg alpha-TE**
Vitamin C
250 mg
8,333 mg
Vitamin B6
3.5 mg
117 mg
Folic acid
800 μg
26,667 μg
Vitamin B12
9 μg
300 μg
Trace elements
Zinc
40 mg
1,333 mg
Copper
1,000 μg
33,333 μg
Selenium
80 μg
2,667 μg
Other micronutrients
L-carnitine
440 mg
14,667 mg
N-acetylcysteine
80 mg
2,667 mg
Coenzyme Q10
15 mg
500 mg
Beta-carotene
2 mg
67 mg
Lutein
800 μg
26,667 μg
Lycopene
200 μg
6,667 μg
Omega-3 fatty acids, including
170 mg
5,667 mg
    Eicosapentaenoic acid (EPA)
90 mg
3,000 mg
    Docosahexaenoic acid (DHA)
60 mg
2,000 mg
* IU = International Units
** alpha-TE = Alpha-Tocopherol Equivalents