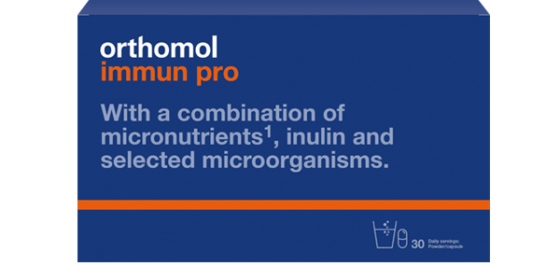 Orthomol Immun pro –
Triple strength
Probiotics, prebiotics and micronutrients
Orthomol Immun pro contains probiotics, prebiotics and micronutrients.
A combination of probiotics, prebiotics and micronutrients, perfectly harmonised with each other
Probiotics are well-defined, living microorganisms.

Prebiotics

are indigestible carbohydrates.

Inulin

, which is derived from chicory, is one important member of this group of substances.
Vitamin C, vitamin D, zinc, selenium, copper, folic acid (folate), vitamin A, vitamin B6 and vitamin B12 contribute to normal functioning of the immune system (including the gut-associated immune system).
Vitamin A, vitamin B2 (riboflavin), biotin and niacin contribute to the maintenance of normal mucous membranes (including the intestinal mucous membrane).
Sachets with powder for 30 days
Take the contents of one large and one small packet separately every day. Large packet = Micronutrients and inulin: Dissolve the contents in 150 – 200 ml of non-carbonated water or fruit juice and take it with or after a meal in the morning or around noon. Small packet = Selected microorganisms: Dissolve the contents in100 – 150 ml of non-carbonated water and take it before going to bed.
Composition                                  
Per Daily Serving
 % NRV**
Vitamins
Vitamin A
750 μg RE°
 94
Vitamin D
15 μg (600 IU°°)
300
Vitamin E
(contains alpha- and gamma-tocopherol)
 36 mg alpha-TE°°°
300
Vitamin K
60 μg
80
Vitamin C
300 mg
375
Vitamin B1 (Thiamin)
 3 mg
273
Vitamin B2 (Riboflavin)
 3.6 mg
 257
Niacin
35 mg NE*
 219
Vitamin B6
3.6 mg
 257
Folic acid
 300 μg
150
Vitamin B12
 6 μg
  240
Biotin
150 μg
300
Pantothenic acid
 18 mg
 300
Minerals and trace elements
Iron
2.2 mg
 16
Zinc
7 mg
70
Copper
500 μg
50
Manganese
0.5 mg
 25
Selenium
30 μg
55
Chromium
 30 μg
 75
Molybdenum
50 μg
100
Iodine
100 μg
 67
Phytonutrients and fructans
Citrus bioflavonoids
20 mg
 ***
Beta-carotene
 4 mg
***
Lutein
 800 μg
***
Lycopene
200 μg
***
Inulin
2 g
***
Combination of selected microorganisms
Bifidobacterium lactis, Lactococcus lactis
Enterococcus faecium, Lactobacillus acidophilus,
Lactobacillus casei,
Lactobacillus salivarius
2 x 109CFU****
***
° RE = Retinol Equivalents
°° IU = International Units
°°° alpha-TE = Alpha-Tocopherol Equivalents
* NE = Niacin Equivalents
** NRV = Nutrient Reference Value according to EU-Regulation 1169/2011
*** No EU recommendation available yet
**** CFU = Colony Forming Units