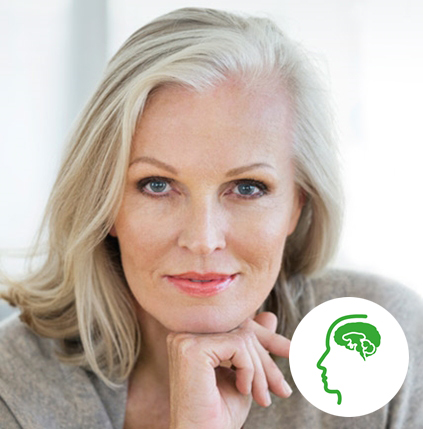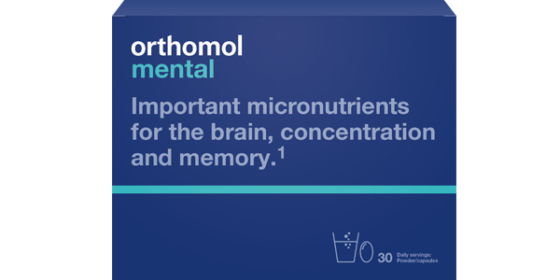 Orthomol Mental –
Keeping everything in mind!
Targeted support for mental performance
Orthomol Mental is a food supplement with pantothenic acid for mental performance.
Important micronutrients for brain, concentration and memory
Powder  and capsules for 30 days
Dissolve the contents of one packet (= daily serving) in 150 – 200 ml of non-carbonated
water or fruit juice and take it together with the capsules with or after a meal every day.
1 daily serving of 14 g powder plus 3 capsules (2.1 g)
Composition                                  
Per Daily Serving
 % NRV**
Phospholipids
Phosphatidylserine
150 mg
***
Phosphatidylcholine
  50 mg
***
Vitamins
Vitamin A
300 μg RE°
38
Vitamin D
15 μg (600 IU°°)
 300
Vitamin E
(including alpha- and gamma-tocopherol)
70 mg alpha-TE°°°
 583
Vitamin C
300 mg
375
Vitamin B1 (Thiamin)
8 mg
727
Vitamin B2 (Riboflavin)
8 mg
 571
Niacin
35 mg NE*
219
Vitamin B6
 10 mg
714
Folic acid
300 μg
150
Vitamin B12
9 μg
360
Biotin
100 μg
200
Pantothenic acid
18 mg
300
Minerals/trace elements
Magnesium
100 mg
 27
Zinc
5 mg
50
Selenium
50 μg
 91
Phytonutrients
Ginkgo biloba extract
100 mg
***
Green tea extract
100 mg
***
Wine grapes extract, including
37 mg
***
    Oligomeric proanthocyanidins (OPC)
10 mg
***
    Resveratrol
1 mg
***
Citrus bioflavonoids
5 mg
***
Beta-carotene
 2 mg
***
Lutein
800 μg
***
Lycopene
200 μg
***
Other micronutrients
Omega-3 fatty acids, including
500 mg
***
    Docosahexaenoic acid (DHA)
370 mg
***
Coenzyme Q10
5 mg
***
L-Carnitine
100 mg
***
° RE = Retinol Equivalents
°° IU = International Units
°°° alpha-TE = Alpha-Tocopherol Equivalents
* NE = Niacin Equivalents
** NRV = Nutrient Reference Value according to EU-Regulation 1169/2011
*** No EU recommendation available yet