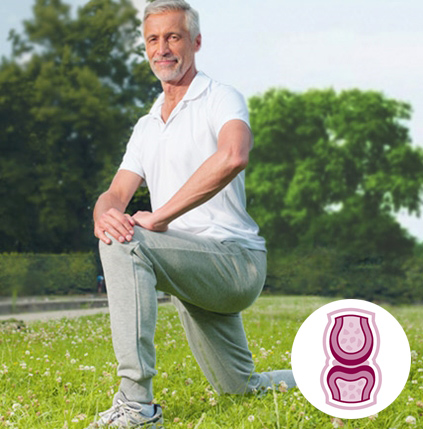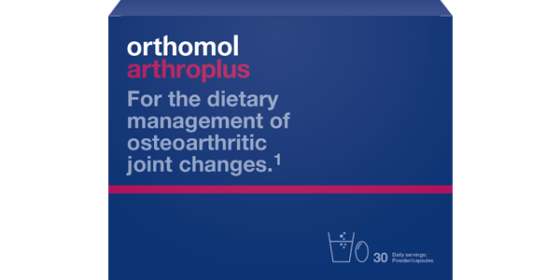 Orthomol Arthroplus –
Active exercising
Important nutrients for the cartilage and bones
Vitamins and minerals/trace elements – for the cartilage and bones
Orthomol arthroplus contains important nutrients for the cartilage and bones.
Vitamin C contributes to normal collagen formation
for the normal function of cartilage and bones.
Calcium is needed for the maintenance of normal bones.
Vitamin D, vitamin K as well as magnesium, zinc and

manganese

contribute to the maintenance of normal bones.
Manganese contributes to the normal formation of connective tissue.
Copper contributes to the maintenance of normal connective tissue.
Powder + capsules for 30 days
Dissolve the contents of one sachet with powder in 150 – 200 ml of water or fruit juice and take it with or after a meal with the omega-3 fatty acid capsules.
1 daily serving of 17g powder plus 2 capsules (1.5g)
Composition
Per daily portion
Per 100 g

Calories / energy                                

258 kJ (62 kcal)

1.393 kJ (333 kcal)
Fat, including
0,8 g
4,4 g
    Saturated fatty acids
0,2 g
1,1 g
Carbohydrates, including
8,8 g
48 g
    Sugar
6,3 g
34 g
Protein
2,7 g
14 g
Salt
0,30 g
1,6 g

Vitamins
Vitamin A
375 µg RE°
2.027 µg RE°
Vitamin D
15 µg (600 I.U.°°)
81 µg (3.243 I.U.°°)
Vitamin E

(Containing, alpha and
gamma tocopherol)

120 mg alpha-TE°°°
649 mg alpha-TE°°°
Vitamin K
60 µg
324 µg
Vitamin C
475 mg
2.568 mg
Vitamin B1 (Thiamine)
4 mg
22 mg
Vitamin B2 (Riboflavin)
5 mg
27 mg
Niacin
30 mg NE*
162 mg NE*
Vitamin B6
5 mg
27 mg
Folic acid
400 µg
2.162 µg
Vitamin B12
9 µg
49 µg
Biotin
150 µg
811 µg
Pantothenic acid
18 mg
97 mg
 

Minerals and trace elements

Calcium
200 mg
1.081 mg
Magnesium
100 mg
541 mg
Zink
10 mg
54 mg
Copper
0,5 mg
2,7 mg
Manganese
1 mg
5 mg
Selenium
50 µg
270 µg
Molybdenum
50 µg
270 µg
 

Amino sugars and amino acids

Glucosamine sulfate
1.100 mg
5.946 mg
Chondroitin Sulfate
400 mg
2.162 mg
Hyaluronic acid
50 mg
270 mg
Collagen hydrolyzate
2,5 g
14 g
N-acetyl-L-cysteine
100 mg
541 mg
 

Phytonutrients

Citrus Bioflavonoids
50 mg
270 mg
Beta-carotene
2 mg
11 mg
Lutein
800 µg
4.324 µg
Lycopene
200 µg
1.081 µg
 

Essential fatty acids

Omega-3 fatty acids, including
850 mg
4.595 mg
   Eicosapentaenoic acid (EPA)
500 mg
2.703 mg
   Docosahexaenoic acid (DHA)
110 mg
595 mg
° RE = Retinol Equivalents
°° I.U. = International Units
°°° alpha-TE = Alpha-tocopherol Equivalents
* NE = Niacin Equivalents