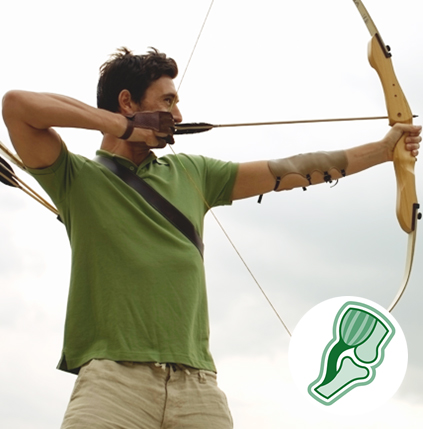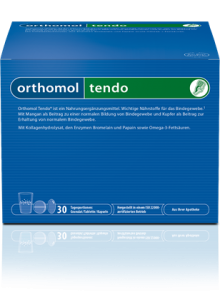 Ортомол Тендо –
для укрепления связочного аппарата.
Важные питательные вещества для соединительной ткани
Ортомол Тендо содержит необходимые питательные вещества для соединительной ткани, а также является источником марганца, который способствует нормальному образованию соединительной ткани и меди, поддерживающих соединительную ткань в норме.
Содержит гидролизат коллагена, ферменты бромелайна и папаина, а также омега-3 жирные кислоты.
Марганец способствует нормальному образованию соединительной ткани.
Медь поддерживает соединительную ткань в норме.
Витамин С помогает нормальному образованию коллагена для нормальной функции хряща и костей.
Другие питательные вещества
Ортомол Тендо содержит гидролизат коллагена, ферменты и омега-3 жирные кислоты.
Powder + tablet + capsules for 30 days
Dissolve the contents of one packet (= daily serving) in 150 — 200 ml of non-carbonated water or fruit juice and take it together with the omega-3 fatty acid capsules with or after a meal every day. It is recommended to take the enzyme tablet about half an hour before a meal.
1 daily serving of 17 g powder plus 1 tablet and 2 capsules (2 g)
Composition                                  
Per Daily Serving
 % NRV**
Vitamins
Vitamin A
375 μg RE°
47
Vitamin D
15 μg (600 IU°°)
300
Vitamin E
70 mg alpha-TE°°°
583
Vitamin C
530 mg
663
Vitamin B1 (Thiamin)
4 mg
364
Vitamin B2 (Riboflavin)
5 mg
357
Niacin
30 mg NE*
188
Vitamin B6
5 mg
357
Folic acid
400 μg
200
Vitamin B12
9 μg
 360
Biotin
150 μg
300
Pantothenic acid
18 mg
300
Minerals and trace elements
Magnesium
100 mg
 27
Zinc
5 mg
50
Copper
1,000 μg
100
Manganese
2 mg
100
Selenium
50 μg
91
Molybdenum
50 μg
100
Amino sugars and amino acids
Glucosamine sulphate
800 mg
***
Chondroitin sulphate
300 mg
***
Hyaluronic acid
50 mg
***
Collagen hydrolysate
5 g
***
Phytonutrients
Apple extract with bioflavonoids
(including rutin and quercetin)
50 mg
***
Citrus bioflavonoids
25 mg
***
Beta-carotene
4 mg
***
Lutein
800 μg
***
Lycopene
200 μg
***
Astaxanthin
200 μg
***
Enzymes
Bromelain
100 mg (500 U****)
***
Papain
50 mg (185 U****)
***
Essential fatty acids
Omega-3 fatty acids, including
850 mg
***
    Eicosapentaenoic acid (EPA)
500 mg
***
    Docosahexaenoic acid (DHA)
110 mg
***
° RE = Retinol Equivalents
°° IU = International Units
°°° alpha-TE = Alpha-Tocopherol Equivalents
* NE = Niacin Equivalents
** NRV = Nutrient Reference Value according to EU-Regulation 1169/2011
*** No EU recommendation available yet
**** U = Enzyme Units